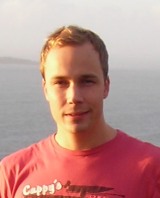 My name is Jan Čurn, welcome to my personal homepage, a place where you can find some information about me and my work. I am currently a Ph.D. student in the Distributed Systems Group of the Department of Computer Science, at Trinity College Dublin - I have there a dedicated departmental web page. In 2011 I've co-founded Dev tank, a software development company.
Here you may find the official Jan Čurn's curriculum vitae and Jan Čurn's LinkedIn profile. To contact me, please write to:
Below is a list of several projects I have been working on so far and some other stuff.
Links
There are links to pages of my friends and colleages.
http://plgr.cz/
http://refresh.cz/
http://gomocup.wz.cz/
http://werewolf.wz.cz/
http://www.azrael.cz/
http://www.snc.cz/
http://www.cs.union.edu/~dolezalj/
http://www.webgame.cz/
http://www.vojta.cz/
http://bura.borec.cz/
http://www.janvesely.com/
http://usersold.vscht.cz/~maniakr/